Generous contractors dive in after pool company left family high and dry
After hearing about family's plight, firms offer to finish job for free
NORTH LAUDERDALE, Fla. – The plan was simple: remove all the pool tile; find and fill in any hollow points in the slab; install a new skimmer; re-plumb the pool equipment; install a new concrete pad for the pool equipment, and all of that would be done for free.
In January, David Zeilnhofer and his wife, Maryann Lojek, paid Knox Pools $7,571 to remodel their pool. Several weeks later, the North Lauderdale couple contacted the Leave it to Layron team after receiving an email from a former Knox Pools employee:
"Good Evening Sir/Madam: I regret to inform you that Knox Pools (who've been in business since 1988) has been closed indefinitely for reasons unknown. An unfortunate business decision that was made by the owners of which its own employees were unaware of. I myself want to apologize for any inconvenience this may cause. It is my personal opinion I'm sure you would rather get some sort of information instead of just guessing, Its unfortunate it won't be coming from the owners. I sincerely wish everyone luck."
The couple filed a lawsuit against the owners of Knox Pools. Documents show the owners of the pool company filed for Chapter 7 bankruptcy relief in June.
"It's been real frustrating," Zeilnhofer said. "If we ever got our money back, or anything back, who was going to do the work? You can't trust anybody anymore. That's the way it seems."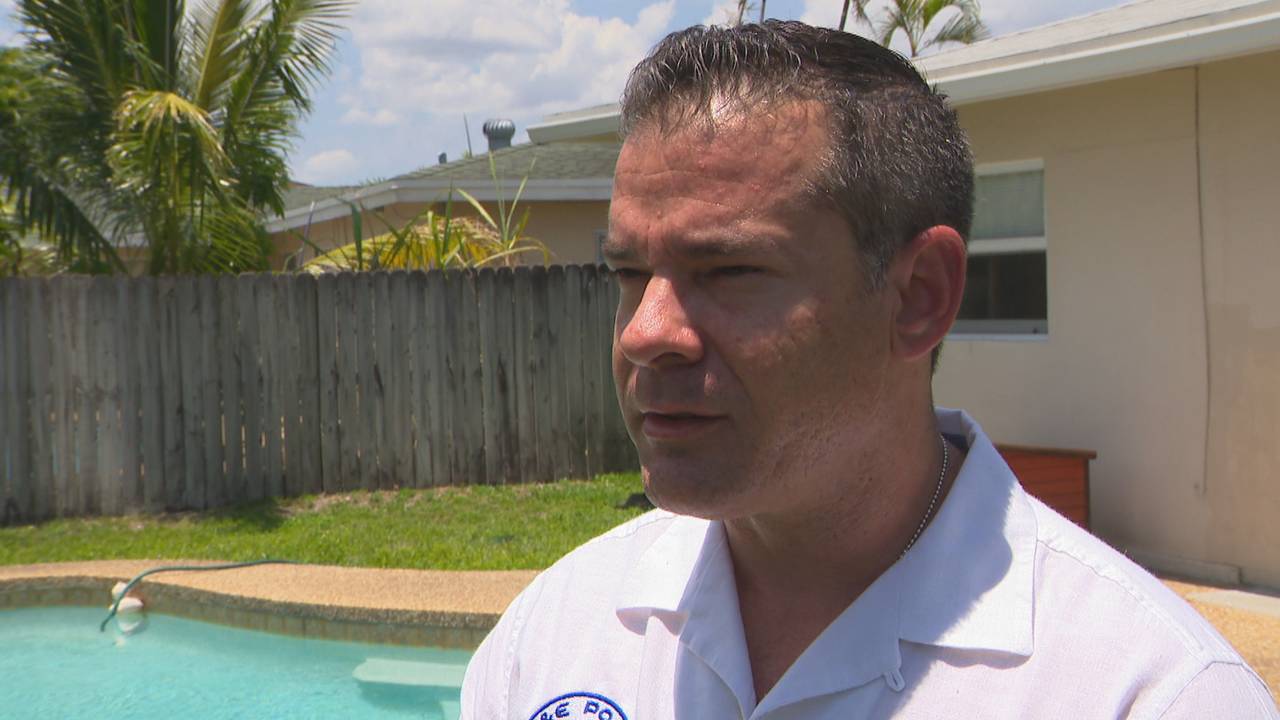 Eladio Morejon owns D&E Pools Lighthouse Point Inc. He contacted the LITL team after seeing the investigation into Knox Pools' sudden closure.
"I want the industry to have a better face," Morejon said. "We're better than that, and we want to make sure they're happy, in the end."
Morejon later contacted Zeilnhofer and Lojek and offered to remodel their pool for free.
"It's guys like him that make the world a better place," Zeilnhofer said. "I was overcome. I was in tears."
In the weeks that followed, an entire team of pool-producing people dove into the project. 
"We feel bad for them," Pierre Mifsud said. His company, Florida Foundation Systems, volunteered to shore up the pool's concrete slab.
"There was a void, and it settled, and it created a crack right above the pool tile, which created a leak," Mifsud said. "The main thing is to get the slab stabilized so that they can do the pool tile so that it doesn't crack again."
Once that work was finished, a crew from Tru Colors Contracting stepped in to grind down the old surface material and install the new pool deck.
The couple's dream pool eventually became a sparkling blue reality.
"I'm speechless," Zeilnhofer said. "It's beyond my dreams. I can't thank you guys enough."
https://www.local10.com/consumer/leave-it-to-layron/generous-contractors-dive-in-after-pool-company-left-family-high-and-dryhttps://www.local10.com/consumer/leave-it-to-layron/generous-contractors-dive-in-after-pool-company-left-family-high-and-dry